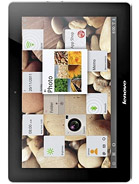 Today we'll be reviewing the Lenovo IdeaPad S2. This tablet isn't a very strong one, but its hardware isn't all that weak either. This device also looks pretty good, so whatever it lacks in hardware performance ( and for this part, it all depends on how you define performance – if you want a tablet for high-end games and such, than this isn't the one for you, but if you want something with a decent performance that can pretty much fit all business needs, than look no further ) it more than makes up for it in features and practical uses.
Now when I say "practical uses", I am referring to just that, since I actually read a joke the other day about using the tablet. You see, this guy was asking his girlfriend for a newspaper and she said "Don't be silly, take my iPad". The thing that followed is the thing that made me laugh really hard. "That mosquito never saw it coming". The moral of this thing ? I guess it's up to you to decide how practical your devices can be. Although I strongly suggest not using this tablet in such purposes. While I do believe it can handle it, as Lenovo releases quite a lot of quality laptops and tablets, why take the chance ?You know how it is, after all. These decisions are what differentiate us from those insane people. The ability to make simple decisions such as : Should I stick my fingers in the fan or just leave the room quietly.  So, without wasting any more time with long intros, let us commence this little review of the Lenovo IdeaPad S2.
SUMMARY
As I promised a while back, I would start all my reviews from now on with a brief summary of the good and the bad of the device to be reviewed. The Lenovo IdeaPad S2 isn't a very powerful tablet, but it's hardware is more than half decent. You can run pretty much anything on it, even HD movies, but don't expect it to withstand Tegra games ( I use this term because Tegra is made by Nvidia and Nvidia makes one of the best video-cards for the PC, thus Tegra is also one of the best; if you don't believe me, you're welcome to search the specifications of a Tegra 3 chipset / graphic card and see for yourself how over-powered it is ).
The tablet looks pretty good and it has an exquisite surface on the back that is pleasant to the touch, however, few people actually care about the back or rest of the body of the tablet as most people just use leather straps or something similar to "protect" it or disguise it into some other object. For example, I've seen people make iPads looks like books with hard-backs or which are bound in ecological leather. Moral of the story is few people care about the default look of the tablet, as most of them only care about customizing that tablet.
Unfortunately, I may lack certain pieces of information for a few parts, but rest assured that an approximation is easy  to make about the parts which I cannot talk about. For example, I can't provide info about the size of the device, but you can approximate since you know how big the screen is ( 10 inches ). Well, let's not dilly dally anymore here. I hope this was enough to stir your interest and if you want to know more, do keep on reading.
GENERAL
The Lenovo IdeaPad S2 is one of those rare tablets that can support networks on it. Now when I say they can support networks, I usually mean they have support for SIM cards. Why would a tablet need a SIM card, you may think ? Well, it is simple my dear reader. You can always make a contract for one of those mobile internet cards ( those function with MB of traffic, usually ). Those networks are as following : 2G ones ( GSM 850, GSM 900, GSM 1800 and GSM 1900 ) and 3G ones ( HSDPA 2100 ).
This tablet was announced quite a while back and it's pretty disappointing to see that it isn't available yet. Worse even, we don't even have a clear release date yet. This device is said to have been announced in January 2012 and it will only come out around Q3 of 2012. Hopefully, for some people, the Lenovo IdeaPad S2 will be worth the wait. I still think that in such a long time you could do something so much better than this tablet, but then again, what do I know ?
BODY
Now normally I try and discuss the size and weight of the device here, but as I said before, there is no info available about how big the Lenovo IdeaPad S2 is. We do know exactly how much it weighs, however. Its weight is somewhere around 580 grams. Now keep in mind that this is a massive tablet, and how else could it have been after all. Remember, the screen of this device is a 10 inch one. Add another inch or so for each side and you have a pretty big tablet.
It has no particularities or features as far as the aspect is concerned, but then again few people are interested in the aspect of a tablet since most people just put different casings on them, as I already mentioned. Something to keep in mind is that the back of this tablet is quite exquisite, having a surface which is very pleasant to the touch ( at least, for me it is ) and the camera is situated quite optimally on it. All and all, the Lenovo IdeaPad S2 looks awesome, and while I can't provide its exact size, know that it is pretty big. Also, this tablet should be enjoyable even for those people that hate small tablets ( 7 inch screens or so ) as this one is exactly the opposite of small.
DISPLAY
The screen of the Lenovo IdeaPad S2 is an LED-backlit IPS LCD capacitive touchscreen with 16 million colors. This is an exquisite screen with an awesome visual quality. I guess the nearest possible screen you can compare it with is the Super AMOLED one, although I haven't had the pleasure of comparing the two of them for myself. Still, I must make a statement here : while both of them were designed to block out reflections as much as possible, they both have the same vulnerability. Avoid direct sunlight since that light is way too powerful to cancel. While it works perfectly indoors or in well lit areas ( works, as in it cancels almost any reflection ), direct sunlight remains a problem even for our current technology.
As I mentioned before, the screen is around 10.0 inches big. This particular screen can house a huge resolution of around 800 x 1280 pixels. The only thing that may come as a bad point for this screen is the fact that it has a pixel density which is less than ideal for your eye-sight. While a pixel density of 151 ppi may suit phones with small screens, it's a killer for the eyes on devices with such large screens. Having said this, the Lenovo IdeaPad S2 may not be such a great device if you plan on using it for extended periods, as it may cause eye pain and headaches, and all the other symptoms associated with the increase of the ocular globe tension. Leaving biology aside, this device also has Multitouch, however, it doesn't have the Advanced sort of Multitouch which can support more than two simultaneous fingers. All and all, the display is pretty good, but I wouldn't recommend extended usage.
SOUND
While this may be a tablet that supports networks, just like the tablet reviewed the other day, it is different in many aspects from that one. One of those main differences is the fact that this tablet doesn't have Alert Types ( although, frankly, I have my own doubts about how those work for a tablet – I'd find it hilarious if the tablet just started vibrating and ringing on the desk ). While it may be just like the rest as far as Alert Types are concerned ( same goes for the 3.5 mm jack, as this one has a standard one as well ), the Lenovo IdeaPad S2 does have its own little bit of sound enhancement. That sound enhancement is more hardware-based, rather than software, since this tablet has a decent pair of Stereo Speakers instead of a default Loudspeaker, fact which should improve the audio output quite a bit. All and all, the Lenovo IdeaPad S2 has an approximately regular sound system, apart from the Loudspeaker which is out of the regular, but then again, few people use tablets as mobile music devices.
MEMORY
The internal storage space of the Lenovo IdeaPad S2 surprised me when I first saw it. Lenovo sure pulled a fast one with this tablet as it has quite a lot of storage space. If anything, you can store your entire collection of important data on it and not even feel it. Now of course, the storage space depends on your wallet space, and how little empty wallet space you have left. This tablet is available in two different versions : a 32 GB one and a 64 GB one ( with a considerable price difference between the two ).
As if 64 GB of storage wasn't enough ( if you can afford it, of course ), this tablet also has a card slot – a Micro SD one, to be more precise, which can use any card of up to 32 GB. Do the math and you 96 GB of storage, which is more than I could ever fill for a tablet. With that much space, you'd never worry about running out of storage ever again. The RAM is also quite decent for the Lenovo IdeaPad S2 too. This device has 1 GB of RAM. While it may not be the maximum, keep in mind that the 2 GB of RAM which are the current maximum for mobile devices were out of the question when this tablet was announced. The memory is great for this tablet, one of the best points of the Lenovo IdeaPad S2, if you ask me. If you require lots of storage, this is definitely the tablet for you.
DATA CONNECTION
The Lenovo IdeaPad S2 has both GPRS and EDGE. Unfortunately, I've no information about what Class they each are or what speed they can both reach ( which is sort of disappointing, but then again, not many people are interested about this thing ). The same kind of lack of information can be applied for the Speed of the tablet, since we only know that it is HSDPA and HSUPA. This device also has Wi-Fi 802.11 b/g/n with Wi-Fi hotspot on it. I've already explained what that Wi-Fi hotspot means in a previous article, but in case you missed it, the short version is that you create a hotspot to which other people can connect, thus you share your internet from the SIM card with all the people that are connected ( this may have drastic effects on the consumption of given traffic and on your own speed, as you'll be sharing that as well ). The Bluetooth of this tablet is a v2.1 with both A2DP and EDR on it. I won't go into details as to what those two are, but know that you're better off with them than without. The USB port of this tablet is a Micro USB v2.0 one, which frankly, is sort of disappointing. Considering that this is a large tablet,  it could have easily fitted an USB v2.0 port on it instead of a Micro USB one. Still, the connectivity of the Lenovo IdeaPad S2 is pretty okay and the tablet should load almost anything instantly.
CAMERA
The main camera of the Lenovo IdeaPad S2 is a 5 MP one, but it's not one of those advanced ones ( either that, or I've not enough information available to decide ). The advanced 5 MP one, or the unique ones as I like to call them, are different from the rest since they can record in 720p HD at around 30 frames per second, thing which this one can't do. This one, just as the advanced ones, can photograph at a resolution of approximately 2592 x 1944 pixels. The only two features of this tablet's camera are autofocus and geo-tagging. The Lenovo IdeaPad S2 also has a secondary camera, but since my sources can't say what camera that is, we'll just go ahead and assume it's a VGA one. After all, secondary cameras can only be VGA, 1.3 or 2.0 MP, so I've a 33.33% chance of getting it right.
BATTERY LIFE
Battery life is a great issue with tablets and mobile devices in general. The battery of the Lenovo IdeaPad S2 isn't a very great one, but then again, the tablet may not be such a great consumer. This device has a Standard Li-Ion 1350 mAh battery. While my sources can't say how much this tablet can stay on in stand-by mode, who even cares about that ? In the end, you're not paying a large price for a device just to keep it like a flower vase on the desk. The Stand-By time is usually irrelevant. Now the talk-time, that one counts. This tablet is good to go for around 9 hours of talk-time, but in the end, you'll see just how much it can survive for yourself. The battery is decent, but it could have been better. Perhaps the user can purchase another one in case this one is insufficient, but then again, that one costs quite a bit too.
HARDWARE
As I mentioned before, the hardware of the Lenovo IdeaPad S2 is quite decent. While it may be far from the top dogs, it can still run pretty much any app and most of the games without too much effort. The only thing you should avoid are those 3D games which have "HD" in their title. Those are designed for a certain generation of tablets / phones and may not work on anything. The processor of this device is a Dual-Core 1.5 GHz Krait one. To make it even more powerful, the chipset is a Qualcomm MSM8960 Snapdragon and the GPU an Adreno 225. That's a configuration better than most net-books ( those tiny one-handed laptops ) and it can run anything ranging from HD movies to good-looking apps and games. I, for one, would buy this tablet since it has enough hardware strength to fit any business task I may have for it.
SOFTWARE
As if the hardware and its features weren't enough, the Lenovo IdeaPad S2 also has a pretty awesome Android OS version – v4.0 Ice Cream Sandwich. I am disappointed to say that I don't know whether or not this tablet will be eligible to receive the v4.1 Jelly Bean update, but then again, with each new Android OS version we have months to wait until we see what devices are eligible and even more months to see which one of those devices will be first to get it. Chances are, we've another 6 months till that OS is fully-available. The OS of the Lenovo IdeaPad S2 is another good reason to purchase this device.
FEATURES
The sensors of this tablet are Accelerometer, Gyroscope and Compass. The messaging on this tablet can only be done via : E-Mail, Push Mail and IM. The Browser of this device uses HTML and has built-in support for Adobe Flash. There's no info about whether or not the Lenovo IdeaPad S2 will have a radio, however, even it doesn't have one, you can always get an app for that. The GPS of this device has built-in A-GPS support and the tablet itself has Java via Java MIDP emulation. The only available color for the Lenovo IdeaPad S2 is Black.
Here is a brief list of what the Lenovo IdeaPad S2 can do :
SNS integration
HDMI port
MP3/WAV/WMA/AAC player
MP4/H.264/H.263 player
Document viewer
Organizer
Predictive text input
This concludes our little review of the Lenovo IdeaPad S2. If you feel that anything is lacking from this review feel free to leave your suggestions in the comment section below for things which should be added and I will be sure to take them into consideration when writing my future projects. In the meantime, I sincerely hope you had as much fun reading my little review as I had writing it.