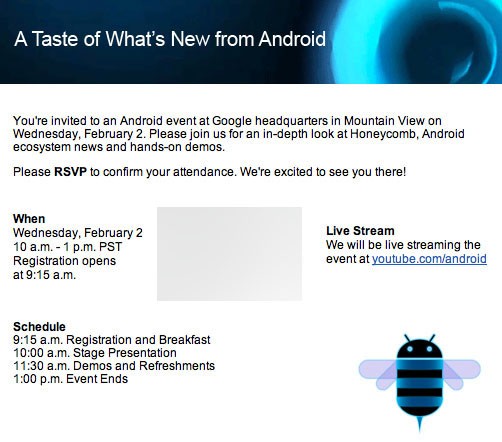 Motorola Xoom will be launched by the end of next month, and Google has already released the Honeycomb Preview SDK so developers can start making changes to their apps, so they work well and look good on the upcoming Honeycomb tablets. But we still know very little about Honeycomb and what's in it, so Google is inviting everyone to their Honeycomb event on Wednesday next week.
The conference will last 90 minutes and they're probably going to announce some big news about Android, too, besides showing off all the goodies in Honeycomb. Some of these might be Google Music, their new social network apps, and possibly even announcing they have worked on a solution to fix, or at least make much faster the upgrading process of Android phones.
Right now, most Android phones don't ever get updated to a new Android version, and even the most popular models get one upgrade which comes months later afte Google releases that specific version. I believe Google could and should think of ways to make this process much simpler for everyone, including manufacturers and users. The Android ecosystem is still young, but they need to start talking about standardizing some things in the ecosystem so upgrading to a new OS version becomes as easy as upgrading a PC to a new version of Windows. This can only help make Android even more ubiquitous in the world.
You'll be able to watch the event live at youtube.com/android.