EA Sports' Fifa franchise is one of the most popular in the world of gaming. The soccer game sells mass quantities year on year; the latest edition, Fifa 15, has sold over 14 million copies and was the second best selling game of the year after Call of Duty: Advanced Warfare.
While most are quick to get Fifa on their consoles they aren't so quick to get the game on their mobile. In fact a lot of the time people don't even know that there is a mobile compatible Fifa available to download for free.
Of course EA cannot give away a complete game for free, it would be harmful to their product. But that's not to say that what they give you is inadequate. Fifa Ultimate Team (FUT) is the most popular game mode on the console version of the game, and it is this mode that is offered to the customer.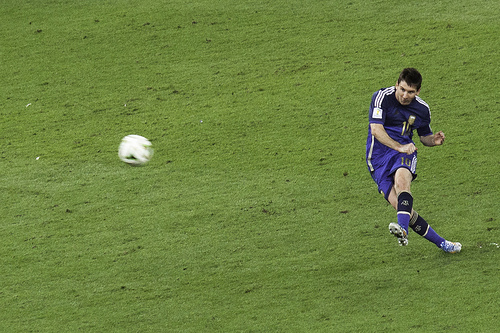 by  jikatu   – Fifa 15 cover star Lionel Messi
For those unfamiliar with FUT, it is a mode in which you have to build your own team by buying packs or players and competing in online matches as you hope to advance up the divisions and make your perfect team.
So is FUT on the phone any good?
To answer this question we will look at some key areas.
Gameplay
Thanks to the financial clout of EA Sports, Fifa has some of the best graphics available on a mobile. The stadiums appear realistic whilst the players are more than adequate and the replays are a nice touch.
As for the gameplay itself, it is a game that is extremely easy to play. The analog stick is located on the left of the screen and thus is operated by your left thumb whilst over the right you find the necessary buttons to shoot, sprint and pass, or slide, switch and tackle if you are defending. Picking up the controls takes no time at all.
It is a game that has a nice fluidity to it and is as realistic as it can be for a mobile game, it is just a shame that you cannot play for pink slips on the mobile.
Database
For those that don't know, team chemistry is everything on FUT and as such you either need to create a team from a certain league or a team of a certain nationality. To achieve this you need a vast database of players, as seen on the console game.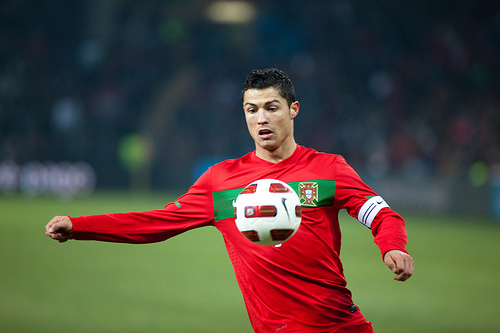 by  Ludo29  – Cristiano Ronaldo
The database on the mobile is fairly extensive. You have the big name players from the big teams such as Cristiano Ronaldo of Real Madrid – who are currently one of the favourites in the UEFA competitions betting to retain their Champions League trophy come the end of the season – all the way down to the lesser known players that ply their trade in the smaller football leagues.
Enjoyment
Fifa is one of those games where it can keep you entertained for hours or minutes depending on how you are feeling. Just like with the Xbox One, if you have your head deep into a season then you will play out that season before doing anything else, this could take upwards of an hour and a half. But at the same time, if you have a ten minute void then Fifa is the perfect distraction. Here is a game that is non-committal if you want it to be.
Conclusion
All in all, FUT 15 is well worth downloading to your mobile. The fact that is free makes it extremely enticing but the game as a whole is good. EA are really starting to make their presence felt in the mobile gaming industry with Real Racing 3 and Madden 15 both being well received. You feel that this is a presence that is only going to grow in stature within the realms of mobile gaming and as such you can expect EA's games to get even better, which will be great, but for the time being the latest FUT experience will most definitely suffice.