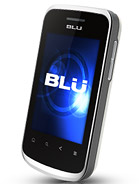 Today we shall be looking at the BLU Tango. This isn't the best of Android Phones, but then again it isn't the worst phone either. It isn't that powerful, even considering the year and time it came out it. The BLU Tango was released in Q4 of 2010, which means it should have at least a few decent hardware parts in it. However, this device disappoints as far as hardware goes. Actually, come to think of it, most phones in the BLU series disappoint in the hardware part. The only good thing that these phones all have in common is their stunning looks. The BLU phones look absolutely gorgeous. They are sleek and elegant and tend to stand out of the crowd. I guess what you could compare the BLU phones with is the Vertu phones. They have little performance but they look great. However, the BLU devices are different from the Vertu ones in terms of which they aren't covered in diamonds and coated in gold or platinum or whatever. If you were to compare this phone with the ones that came out in Q4 of 2010 you'd find it lacking, if you were to compare it with an Android phone today you'd find it downright weak. However, another disadvantage of the BLU phones is the fact that they aren't available in stores just everywhere. For example, in my country, no matter what store I go to I won't be able to find such a device. Was I to purchase one, I would only be able to order it online and have it delivered to me. That's how things go, unfortunately.
Well, without further ado, let us commence with the review of the BLU Tango.
GENERAL
The networks in which the BLU Tango can operate are as following : GSM 850 / 900 / 1800 / 1900 as 2G networks and HSDPA 850 / 900 as 3G networks. This device was announced in September 2010, being released a bit later, somewhere around Q4 of 2010, as I've already mentioned.
BODY
The dimensions of the BLU Tango aren't that big, the device being pretty tiny in itself. However, some people prefer such devices. They're certainly easier to fit in your pocket, or your purse if you are a lady. However, my ideals might soon take a serious 180 and change considering that most new Android devices are getting bigger and bigger, so big that soon a guy like me won't be able to find jeans with big enough pockets to fit them. Back to the subject however, the BLU Tango weighs around 94 grams and I believe it also has touch sensitive controls since I find it hard to comprehend why else those little symbols near the screen would exist.
DISPLAY
The BLU Tango has a TFT resistive touchscreen with around 256 thousand colors. The size of the screen per say is 2.8 inches and the resolution reached by this screen is around 240 x 320 pixels. The pixel density of this device is around 143 ppi. What is very disappointing to see is the fact that the BLU Tango doesn't have Multitouch.
SOUND
The sound capabilities of the BLU Tango aren't that evolved either, the phone being pretty "default" as far as sound is concerned. There are no means of enhancing sound or any advanced things about the sound of this device whatsoever. The alert types of the BLU Tango are : vibration and MP3 ringtones and also this device has a Loudspeaker and a 3.5 mm jack.
MEMORY
Moving on to the memory side of the BLU Tango. The internal storage space of this device is around 512 MB of internal storage. If that isn't enough to satiate your hunger for storage space, know that upon purchasing this device you get an included 2 GB MicroSD memory card. If that isn't enough either, you're invited to purchase your own MicroSD memory card. You know the drill, as long as it doesn't exceed 32 GB it should work. The only difference is that this phone seems to take up 16 GB of MicroSD cards instead of 32 GB. The RAM memory of this device is around 256 MB, which is pretty disappointing. When this phone came out they had at least 512 MB of RAM available. Perhaps they didn't have so many 1 GB of RAM phones, but 512 and 768 were quite common.
DATA CONNECTION
The BLU Tango has a GPRS Class 10 ( 4+1/3+2 slots ) which can work at around 32 ~ 48 KB/s and an EDGE Class 10 which works at around 236,8 KB/s. The speeds reached by the BLU Tango are : HSDPA at 3.6 MB/s and that's about it. The WLAN of this device is a Wi-Fi 802.11 b/g with Wi-Fi Hotspot. Pretty weird to see that it is only a b/g instead of the b/g/n we have all grown accustomed to. The Bluetooth of the BLU Tango is a Bluetooth v2.1 without anything else. Also, if you want to connect this device to your PC for file transfer you can do so via its MicroUSB v2.0 port.
CAMERA
The main camera of this device is a 3.5 MP snapper capable of photographing at resolutions as big as 2048 x 1536. The only feature of this camera is : geo-tagging. The video recording capabilities of this device are limited to QVGA quality at around 15 frames per second. Disappointingly enough, the BLU Tango doesn't really have a secondary camera either.
BATTERY LIFE
The battery of the BLU Tango is a standard Li-Ion 1200 mAh battery. This battery is able of functioning at around 500 hours of stand-by time in both 2G and 3G. The BLU Tango's battery is also capable of functioning up to 12 hours of talk time in 2G mode and up to 6 hours in 3G mode.
HARDWARE
The hardware of this device is pretty weak, but then again it is a complete set of hardware, with all the three components : CPU, GPU and Chipset. The CPU of the BLU Tango is a 600 MHz ARM 11 processor, accompanied by an Adreno 200 GPU and a Qualcomm MSM7227 chipset. All and all, a pretty weak configuration, but at least it's a full configuration.
SOFTWARE
The Android Operating System version that this device is Android OS v2.2 Froyo. This, as opposed to the rest of the phone, I agree with. Android OS v2.2 Froyo was quite popular at the time and the transition to 2.3 Gingerbread was still commencing. All and all, it is pretty decent as far as the Software goes.
FEATURES
The sensors of the BLU Tango are as following : accelerometer and compass. The messaging of the BLU Tango is done via : SMS, MMS, E-Mail, Push Mail and even IM. The browser of the BLU Tango supports HTML but apparently has no obvious support for Adobe Flash. The BLU Tango also has Stereo FM radio with RDS and its GPS has full support for A-GPS. The BLU Tango has Java as well, but only through Java MIDP emulation. The colors that this device can be purchased in are : white, black and red.
Here is a brief list of what the BLU Tango can do :
MP3/AAC/AAC+/eAAC+/AMR-NB/AMR-WB/MIDI/PCM/WMA
H.263, H.264 MPEG4, WMV
This concludes our little review of the BLU Tango. All and all it is a pretty weak phone, but it looks quite good on the other hand ( I'm not sure if it will make up for it but it all depends on the user ). If you feel that anything is missing from this little review feel free to leave your suggestion in the comment section below for things which should be added and I shall be sure to take your suggestions into consideration when writing my future projects. You may also suggest future devices to be reviewed if you know of any good ones. Until then, however, I hope you enjoyed reading this article as much as I enjoyed writing it.
If this article has somehow managed to spark your interest in the BLU Tango, I can provide you with a very good place to purchase one at reasonable prices. Just click : HERE.