Android provides great apps for managing contacts, dialing, sms conversations, etc, but if you use different ways of communication, like me, you will have to switch apps a lot. For example, I get a message on facebook from someone but this is urgent and I want to call him. To do this, I have to exit facebook app and enter contacts app, find the person and call. Too many steps for 2016 technology level. The average Android user frequently use at least 5 communication apps: direct call, sms, hangouts, whatsapp, facebook messenger, yahoo messenger, skype, email and many others.
There is a better way to communicate smartly in our digital age: drupe app. This application provides an universal communication dashboard. From the same screen you can call, email, sms, hangouts, skype, etc. Here is a screenshot of how drupe looks and how easy it is: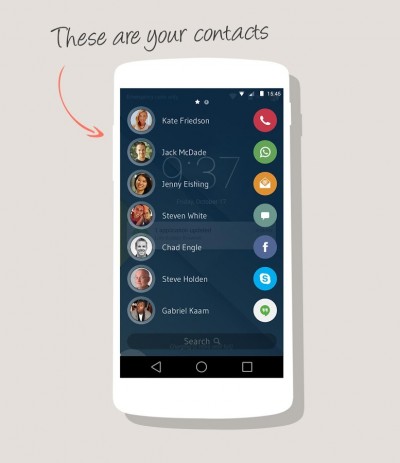 To access drupe app, you have to click the 4 dots that are always present on your android screen. You will be taken to the app dashboard where you can drag a contact and drop it to your preferred communication app. This is all what you have to do to stay in touch with your friends regardless the app you want to use. You can also create group conversations and calls within drupe app.
This is drupe contacts and dialer, a very simple but powerful app.