Today, email is indispensable to our lives. We usually have more than one email accounts: one for work, one for personal use, one for the second job or side business. Personally, I do not have an exact count of how many email accounts I use, but I am certain that I have more than ten.
Dealing with many email accounts, a lot of messages can be a pain. I deal with few hundreds emails a day, but only dozens are really important. Fortunately, there are email apps that can make our lives better, like Mailwise, one of the best E-mail applications on Android.
Mailwise app have a very nice interface, hide the stuff that you do not need like email headers, quoted text in reply, groups all your emaill accounts in one place. Also, provides a cleaner inbox by grouping messages from the same sender or promotional messages.
All email accounts in one place
Since I have to deal with many email accounts, proprietary apps developed by email companies can't do the job. This feature comes very handy for me because it works with most email providers, including gmail, yahoo, live, hotmail, etc. What would have been if I had to use a different app for every email account I use ? This feature is very handy for business purposes, but it can also be used if you have multiple emails: work, personal, etc.
Mailwise app works with most popular email providers, including: gmail, yahoo, microsoft exchange, aol, live, msn, hotmail, outlook, but also works with any custom email server using IMAP or Active Sync. At this moment POP3 is not ready,
Get rid of unnecessary stuff
The times when we used email only for getting notifications is past. In most cases, the exchange of emails is looking like a conversation where only few lines of text are important: the actual message that is sent. Email clients are used to show a lot of extra details for every email received, like: headers, signatures, quoted message, etc. In Mailwise app, these things are gone and you see only what is important, in a very well designed way.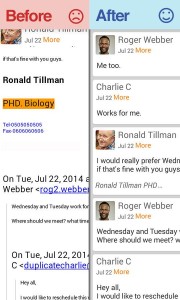 Grouping the messages
Sometimes we receive multiple messages or notification from same sender. In such cases, our inbox will be flooded with messages that say the same thing. Not anymore with Mailwise. Similar messages are grouped into the same conversation and you will see it only once.
You are familiar with facebook and other social sites sending many emails every day to let you know that you have new notifications, comments, replies or friend requests. They are flooding the inbox and you miss out important email. While some email clients like gmail put the emails received from social sites, or promotional messages in different folders, there are still many redundant messages that are flooding the inbox. The solution at Mailwise is to group those messages into the same "conversation" and you will only see it as one message, freeing the space for more important messages.
Mailwise app has many other features that will surely make your life easier, so why don't you give it a try.