I have mentioned somewhere in the past that Intel was considering building some processors for mobile devices and branding them in the Atom series. Since the Netbooks for which they previously produced the Atom processors were taken off the market, it is good to see that they have decided to expand in another domain. Such initiative is refreshing to behold and a welcome change. Granted, I do believe that Intel has tried to launch itself strongly in the phone industry sometime in the past, but if memory serves I believe the results were less than acceptable for them.
The newly announced generation of the Atome processors, also known as the Clovertrail+, with its new range of SoCs, promises a notable improvement over the previous generation Medfield and Clovertrail processors. Clovertrail+ SoCs will be available in 3 SKUs with similar parts, yet different clock speeds. The fastest is the Atom Z2580, followed closely by the Z2560 and the Z2520.
As far as the cpu is concerned, the new Clovertrail+ adds an etra Saltwell CPU core, which is based on the same 32 nm processing. While maintaining Hyper Threading ( so now you get four threads ). The clock speed on the Z2580 goes up to 2.0 GHz, whereas on the Z2560 and Z2520 it is a mere 1.6 GHz and respectively 1.2 GHz. With the extra core, Intel promises a 2x faster CPU performance over Medfield chips.
The biggest improvement, however, comes on the GPU side of things. Intel gets rid of the previous PowerVR SGX540 in favor of the significantly more powerful SG544MP2. To put it into context, this GPU is actually slightly more powerful than the other one in Apple's A5X, which was found inside the 3rd Gen iPad with Retina display.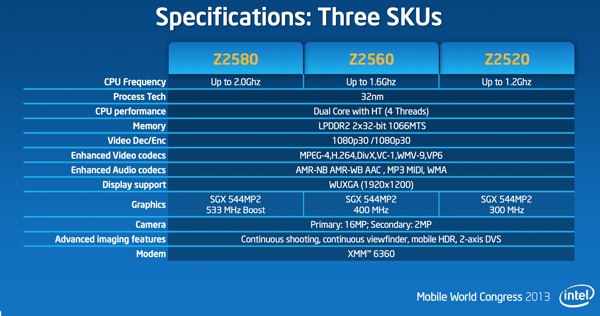 Again, the clock speeds differ across the SKUs, with the Z2580, Z2560 and Z2520 getting a 533 MHz, 400 MHz and 300 MHz frequency respectively. Intel claims the GPU in the Clovertrail+ is 3 times as fast as the previous PowerVR SHX540. The faster GPU also means the supported resolution now goes from 1024 x 768 pixels to a 1920 x 1200 pixels one.
The memory interface in the Clovertrail+ is still 2 x 32-bit LPDDR2 but at a faster 1066 MHz, instead of the old 800 MHz frequency. The baseband has also been updated. From the previous XMM 6260 to the now XMM 6360 which now supports 3Gpp release 9 with 42 MB/s DC-HSPA+ ( Category 24 ) and HSUPA category 7 ( 11.5 MB/s ). However, there is still no LTE support.
Lastly, there is a brand new reference design for OEMs. It uses the Z2580 chip with 2GB of RAM, XMM 6360 baseband, 16 MP rear camera and 2 MP front camera. It runs a stock Android 4.2, which can be modified by the OEM, as often is the case. Also, the first announced phone that will have this Clovertrail+ is the Lenovo K900.