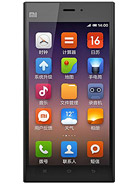 Today I'll be showing you a really awesome smartphone for a pretty cool price – the Xiaomi MI-3. This is a pretty damn good phone with some great features for a price that's rather quite acceptable ( frankly it raises a few questions when you stop and think about why this phone is so cheap when other top-grade smartphones cost so much more, but I'll provide an answer to that too, eventually ).
The Xiaomi MI-3 is certainly a bright phone from an up-and-at-em manufacturer, Xiaomi. Now I've actually posted some time ago about the great achievement of this manufacturer – selling 200.000 units or so in 3 minutes ( so the phone has got to be good for something if it made that numbers in such a short time ). Many people will underestimate the phone simply based on the idea that most Chinese goods aren't all that reliable quality wise ( you may think this is racist thinking, but you'd be surprised how many co-nationals of mine believe this – heck they even made jokes like "God created the Heavens and the Earth – everything else was Made in China ).
SUMMARY
I've searched this phone on many different sellers and managed to notice one thing: the Xiaomi MI-3 is very differetly priced wherever you look at it. For instance, some sellers offer it for 700 dollars, where as others will give it to you for 500 ( I'll provide you with one of the best deals I managed to find for it at the end of this article ). Now you'd think: is the phone worth such a value? Well, for 700 dollars it's questionable, but for 500 dollars the phone is more than worth it. It offers a great deal of features, granted it does come with a few limitations that seem logical for the 500 dollar tag, but are inconvenient for the 700 dollar one. Overall, the advantages outweigh the drawbacks, but for the larger price tags they do seem to be somewhat steep sacrifices to take. As far as quality goes, the Xiaomi MI-3 offers quite a notice-able bit.
GENERAL
The Xiaomi MI-3 is a pretty good phone as far as connectivity goes. Its only disadvantage here is the fact that it lacks 4G connectivity. As far as 2G and 3G connections go, this device has the standard GSM networks. The SIM card that goes in this phone is of Micro-SIM format. Currently this awesome device is out there and ready for purchase, and has been actually ever since October.
BODY
The Xiaomi MI-3 is a fairly large phone, but not much larger than average, after all this device is equipped with a 5.0 inch screen. The exact dimensions are as follows: 144 x 73.6 x 8.1 mm ( or circa 5.67 x 2.90 x 0.32 in ) and it weighs approximately 145 g ( or around 5.11 oz ).
DISPLAY
You already know that the Xiaomi MI-3 has a 5.0 inch screen, but what you don't know is that this is that strong type of 5.0 inch screen – the IPC LCD 16 million color kind that uses a resolution of 1080 x 1920 pixels and has a gigantic pixel density of around 441 pixels per inch. In other words, the screen won't get much smoother than this. The only drawback here is the lack of any screen protection, so I'd be careful with this phone if I were you.
SOUND
Nothing interesting to report as far as audio is concerned, as the Xiaomi MI-3 doesn't really have any particular audio enhancements on it ( not that it really needs any to function – but they are always welcome ).
MEMORY
The memory of the Xiaomi MI-3 is really good, but there's a small disadvantage here as well. This phone has two versions – a 16 GB one and an astonishing 64 GB one. The drawback here? – simple: lack  of memory card ( but then again, who needs a memory card with 64 GB of internal storage ). The RAM of the Xiaomi MI-3 is almost the highest amount out there – 2 GB ( there are devices with 3 GB out there as well, but what can you really do with that much RAM on a phone ).
DATA CONNECTION
The connectivity of this device is amazing. The Xiaomi MI-3 has NFC on it, it has both GPRS and EDGE, it has Bluetooth v4.0 with A2DP and despite the fact that it doesn't have LTE connections, it has an internet connection that represents the next best thing. The WLAN of the device is also special: Wi-Fi 802.11 a/b/g/n with Dual-Band, Wi-Fi Direct and Wi-Fi Hotspot support. The USB port of this device is also something pretty neat: a MicroUSB v2.0 port with USB On-the-Go support and MHL on one.
CAMERA
The cameras found on the Xiaomi MI-3 are really good. This phone has a main 13 MP one on the back and a secondary 2 MP one on the front. Both of these cameras can record video in 1080p HD quality at 30 frames per second, with the only difference being that the main one has HDR on it as well. Here are some of the features of this powerful main camera: autofocus, dual-LED flash, geo-tagging, touch focus, HDR, face and smile detection and image stabilization.
BATTERY LIFE
There's something I really dislike about the battery of the Xiaomi MI-3 – it's the non-remove-able kind. While the battery is a large and strong one ( Li-Ion 3050 mAh battery ), nobody has, as of yet, provided people with data about how long the phone can survive with this battery.
HARDWARE
The hardware found on this device is pretty impressive: the phone has a Qualcomm SMS8974AB Snapdragon 800 chipset, an Adreno 330 GPU and a Quad-Core 2.3 GHz Krait 400. I understand from certain pieces of information that this phone can be purchased with Tegra 4 instead, but I have yet to verify the truth about this rumor, so disregard what I just said.
SOFTWARE
The OS found on the Xiaomi MI-3 is a pretty good version: Android OS v4.2.1 Jelly Bean. While there could have been better versions than this one, it will have to do. If you're not satisfied, you can always go the riskier unofficial route and look for update: I'm sure you'll find quite a few.
FEATURES
The Xiaomi MI-3 is loaded with all sorts of neat features. This phone comes with a ton of sensors ( such as accelerometer, gyro, proximity, compass and barometer ), HTML5 for the browser, FM radio, GPS with support for both A-GPS and GLONASS alike, Java through MIDP emulation and so many more. The messaging on this device is done through SMS ( with Threaded View ), MMS, E-Mail, Push Mail, IM and RSS. The Xiaomi MI-3 is available in a whole bunch of various colors.
Here's a short list of some of the things this phone is capable of doing:
Active noise cancellation with dedicated mic
TV-out (via MHL A/V link)
SNS integration
MP4/DivX/XviD/WMV/H.264/H.263 player
MP3/WAV/eAAC+/AC3/FLAC player
Organizer
Image/video editor
Document viewer (Word, Excel, PowerPoint, PDF)
Google Search, Maps, Gmail, YouTube, Calendar, Google Talk, Picasa
Voice memo/dial/commands
Predictive text input (Swype)
This concludes our little review of the Xiaomi MI-3. I tried touching the most important parts here and talking about everything as briefly as I could, without going into too many technical or boring details. I do hope it has proven somewhat enlightening to you all and that at the very least it offered you a bit of extra info about the device. If you liked the phone and would desire to try it out for yourself, I can provide you with a link to one of the best deals you can find out there: you can get it from HERE
.