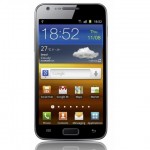 Although we kept talking about it, we haven't really made an article about this phone did we ? The one, the only, Samsung Galaxy S2 HD LTE.
Well what is there not to know about this one ? This Smartphone is the one that managed to take the roll of sales anchor for Samsung. Until recently it was their best selling product. The LTE is just a different version of the classic S II. It looks a bit better but the inside components are not that different. The HD version is just the better looking LTE since it has a bigger display. NOTE that the pictures may be from the regular LTE but the HD one looks pretty similar.
Processor : 1.5 GHz dual-core processor, Adreno 220 GPU, Qualcomm MSM 8660 Snapdragon
RAM : 1 GB
Android OS : 2.3 Gingerbread
Camera : 8 MP
Display : 720 x 1280 pixels, 4.65 inches (~316 ppi pixel density)
On the display side, we're looking at the best type of display out there. This phone has a Super AMOLED capacitive touchscreen with 16 million colors. It has a gorilla glass display, which makes it even more resilient to the stress of our struggled daily lives. The screen itself is 4.65 inches big and has a resolution of 720 x 1280 pixels. The screens pixel density is somewhere around 316 ppi. Now that right there is a display built to last.
On the memory side, this phone has an internal storage space of 16 GB. If that wasn't enough for you, it comes with an 8 GB microSD card included in the price. This phone has 1 GB of RAM which means it runs really smooth. That's what made it the best phone out there, up until September at least. No problem though, because the contenders for the title are also from Samsung. Oh and the maximum storage space of which the memory card can achieve is 32 GB.
On the camera note, this phone has one of the best cameras out there. We're talking about an 8 MP camera that photographs at resolutions as high as 3264 x 2448 pixels. Some of the many features of the camera include : autofocus, LED flash, geo-tagging, touch focus, face and smile detection and last but not least, image stabilization. The video recorder is also awesome. It can record video at 1080p at a steady 30fps. This phone also has a secondary camera, that being a 2 MP one.
On the hardware note, this phone has a 1.5 GHz dual-core processor. Now that processor in itself is better than some of the weaker laptops out there, but if that wasn't enough, it has an Adreno 220 GPU and to top it all off it also has a Qualcomm MSM 8660 Snapdragon chipset. That is a regular powerhouse capable of running anything in existence.
On the OS side, this phone is running Android v2.3 Gingerbread. Back when it was made, it was the best version out there. But I'm sure it can be upgraded to the newer versions as well.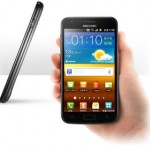 No bad things to say about this phone, it is actually well worth the hype it has been given. If you're interested in this phone and want to acquire on for use, you can get on your way to get one by clicking HERE.