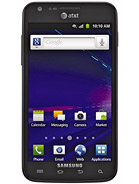 This is yet another version of the ever-so-strong Galaxy SII. I know I've posted about some other SIIs as well, but this one is pretty strong. Guaranteed to be around for at least a couple of years. Actually, the Galaxy S series is the one thing that has actually pushed the bar as far as Samsung Phones go. They are the main reason, in my opinion, for the success of the company in our everyday lives. Ladies and gentlemen, boys and girls, the Samsung Galaxy SII Skyrocket i727.
Processor : Dual-core 1.5 GHz Scorpion, Adreno 220
RAM : 1 GB
Androd OS : 2.3 Gingerbread
Camera : 8 MP
Display : 480 x 800 pixels, 4.5 inches (~207 ppi pixel density)
As far as the display goes, it's currently one of the best available, if not the best. I'm referring of course to the powerful Super AMOLED Plus capacitive touchscreen with 16 million colors. The screen itself is 4.5 inches big and the screen resolution reaches 480 x 800 pixels. The pixel density is approximately 207 ppi.
On the memory side, this device has about 16 GB of internal storage and 1 GB of RAM. That allows for a whole lot of performance and multi-tasking, as much as possible with the current state of technology. If you require more internal storage space, you can use the MicroSD card slot which uses any MicroSD card of up to 32 GB.
As far as the camera goes, this device has an 8 MP camera with around 3264 x 2448 pixels. Some features of this device include : autofocus, LED flash, Geo-tagging, touch focus, face and smile detection and last, but not least, image stabilization. It has quite a lot of features, apparently.As far as the video recorder goes, it can record at full HD 1080p quality at a steady 30fps. This device also has a secondary camera of 2 MP strength.
As far as hardware goes, this particular device has a Dual-core 1.5 GHz Scorpion processor and an Adreno 220 GPU. That's a pretty string configuration, but we have no real and/or solid idea of the chipset. Still, even without a notable chipset, this device is still a pretty potent powerhouse.
Last but not least, the software. It has OS version 2.3.5 Gingerbread and I'm pretty sure an upgrade to 4.0 Ice Cream Sandwich is soon to follow since this is one of those particular devices which can do great things.
All and all, this is a pretty awesome gadget. At the current time, it is the strongest androidphone available. But just wait until the future ones  comes out – The Galaxy Note. If I managed to spark your interest into this phone, you can get more info including purchase details click HERE.