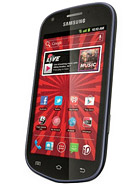 The Samsung Galaxy Reverb, also known as the Samsung Galaxy Reverb M950 if you value knowing the full name, is a relatively new Android Phone with mid-ranged components ( well, low ranged components if you compare it with today's standards ) but comes for a pretty cheap price. In case you're wondering: how cheap can that said price be, well let me enlighten you on the matter. The production cost an true price of this device would be somewhere at 150 euros, but I believe most shops will sell it for 200 dollars or so (which really isn't all that much considering this is a device with 4G on it, and not regular networks ). I mentioned earlier that it's also known as the Samsung Galaxy Reverb M950, but it also has a more coded name if you'd like to hear it: the Samsung SPH-M950. First off, in order to be clear, off the bat I'd like state that this phone has no special features or anything. It won't exactly keep up to your expectations if you're expecting to get something really strong for really less. That kind of phone doesn't exist. While the phone will run well most of times, I can tell you as a low-end phone user that at times the device will start running a bit sluggish, yet it will be back to normal in minutes.
OVERVIEW
This isn't the strongest of phones out there, and I know it's not always best to start with weaknesses, but this is a fact worth knowing by any potential buyers. You see, the phone is limited in hardware and software areas by its price. However, that was to be implied when you clicked it. This is a budget phone, after all, and a really well endowed one at that ( you understand, I'm sure, that not many phones come for such a low price yet with this hardware in them ). Also, while some hardware components may be sluggish at times ( but only if you're careless and flood the phone with apps and useless data ), the Android OS version that it has ( which is Ice Cream Sandwich ) is a great addition and it should boost your phone's performance considerably. One of the major downfalls of this device, I've found, is the fact that it's quite restrictive as to where it'll be available. As far as I know, it is sold mostly through Virgin Mobile. I personally think this a pretty good thing as when you buy it, you'll also get its 4G networking thus saving you some running around. But enough beating around the bush. If you're interested about the Samsung Galaxy Reverb, read on and you shall see what there is to be seen.
GENERAL
As I already mentioned, or should have if I didn't, this phone doesn't use any standard GSM networks and will not work with any GSM network worldwide. The supported networks of this device are as follows: 2G ( which are CDMA 800 and CDMA 1900 ) and 3G ( which is CDMA 2000 1xEV-DO ). The SIM card used by this device is a Mini-SIM one ( personally I prefer those to the Micro-SIM ones, but that's my opinion only ). There's been quite a time lapse between the announcement of this device and its release. Either there is a mistake in the info, or there truly has been a large time lapse. Personally, I think this data a bit irrelevant, really, however here's the story if you're interested: while some sources may claim it was announced on August 2011, it was really announced in 2012 around the same period and hit the market ( as some would say ) on December, while others say it has been in the market since September. It's debate-able, but not altogether that important.
BODY
This phone isn't exactly all that big. Come to think of it, it's pretty default sized for a smartphone with Android. The exact size of this phone is as follows : 122 x 64 x 11.3 mm (  or 4.80 x 2.52 x 044 in, if you are allergic to the metric system ). The weight of this device is around 129 g ( or 4.55 oz, if you like this system better ). In general, it's big enough as to fit a 4.0 inch screen.
DISPLAY
The screen type of this device is a Capacitive touchscreen with 16 million colors. The screen, as I've already said, is 4.0 inches in size and houses a resolution of 480 x 800 pixels. The pixel density of this device is pretty darn good ( not the best, mind you, but more than half decent ), the Samsung Galaxy Reverb having around 233 pixels per inch. This phone also has Multitouch on it and it has Touch Sensitive Controls instead of frontal buttons ( as I'm sure you've already noticed from the pictures / screens of this phone which are lying about on the internet ).
SOUND
The Samsung Galaxy Reverb is pretty basic as far as sound is concerned. This phone has no enhancement whatsoever and everything else about its sound is pretty much default stuff. The alert types are: vibration, MP3 and WAV ringtones and the phone has a Loudspeaker and a 3.5 mm jack.
MEMORY
This device is one of those rarer ones as far as memory is concerned, and you shall see why in just a second. The internal storage and RAM aren't that much to look at. The internal storage of this device is 4 GB and its RAM is around 768 MB ( more than enough in both cases, as far as I care, but others want to use the phone for heavy gaming and I'm afraid that just may not work with this phone ). In case the internal storage isn't enough for your needs, this phone does have a Micro SD card slot – and what a card slot it is: the Samsung Galaxy Reverb, apparently, is one of those rare phones that can support a 64 GB Micro SD card on them.
DATA CONNECTION
Since this device has no support for any GSM networks whatsoever, logical thinking dictates that it doesn't support GPRS or EDGE either. Its speed is EV-DO Rev A of up to 3.1 MB/s. The WLAN of the Samsung Galaxy Reverb is Wi-Fi 802.11 a/b/g/n with Dual-Band, Wi-Fi Direct and Wi-Fi hotspot. The Bluetooth of this device is Bluetooth v4.0 with A2DP. The USB port of this device is a Micro-USB v2.0 one with no apparent MHL. Since the phone itself doesn't have an HDMI port, you could say that the idea of plugging it into the TV is out of the question.
CAMERA
The camera of this device is a 5 MP one that can photograph at 2592 x 1944 pixels. Unfortunately, this camera isn't one of those rare ones that can also record video in 720p HD, but it can record in 480p. The features of the main camera re: autofocus, LED flash and geo-tagging. The secondary camera is a 1.3 MP one frontal one.
BATTERY LIFE
The battery of this device is fairly strong. The phone has a Li-Ion 1700 mAh battery that can hold the phone in stand-by for around 169 hours and can survive for up to 7 hours and 30 minutes of talk-time. All and all, the battery is guaranteed to be strong enough to handle the hardware specs of this device.
HARDWARE
The hardware isn't much to look at, not at first glance anyway, but it's strong enough to handle most tasks out there. The CPU is a 1.4 GHz Scorpion with a Qualcomm MSM8655 Snapdragon chipset and an Adreno 205 GPU. All and all, it's capable of handling its fair share of apps, games and so forth. As long as you don't overdo it and demand more than it can provide, you should be fine.
SOFTWARE
While the Samsung Galaxy Reverb may not have the latest version of Android on it, it's still better than most and should suit you just fine. The version, as I think I've mentioned already, is Android OS v4.0.4 Ice Cream Sandwich. While it may not be no Jelly Bean, it still gets the job done and boosts the hardware into working a bit better than usual.
FEATURES:
The Samsung Galaxy Reverb is packed with all sorts of features and bells and whistles. The sensors of this phone are: Accelerometer and Proximity. The messaging on this phone is done via: SMS ( with Threaded View ), MMS, E-Mail, IM and Push E-Mail. The browser of this phone uses HTML5 but has no support for Adobe Flash ( so it may prove rather problematic ). The GPS of this phone has built-in support for A-GPS. The Java of this phone is granted through Java MIDP emulation. The only available color for the Samsung Galaxy Reverb is Black, but I'll be damned if it doesn't look awesome in it.
Here is a brief list of the features this phone has:
SNS integration
MP3/WAV/WMA/AAC+ player
MP4/WMV/H.263/H.264 player
Google Search, Maps, Gmail, YouTube, Google Talk
Organizer
Document viewer
Photo viewer/editor
Voice memo/dial/commands
Predictive text input
This concludes our little review of the Samsung Galaxy Reverb. I hope it has been as helpful as possible. If you feel that anything is lacking from this review feel free to leave your suggestions in the comment section below for things which should be added and I will be sure to take them into consideration when writing my future projects. In the meantime, I sincerely hope you had as much fun reading my little review as I had writing it.