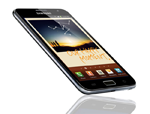 Samsung Galaxy Note is truly a wonderful piece of technology. This Smartphone is quite a remarkable one since it grants you unlimited possibilities and bring a great deal of great expectations.
This Smartphone is one that brings quite an incredible feature to the table. We all know that capacitive touchscreens usually don't work with anything that doesn't have heat. Trying to touch it with a pen as you do with the resistive screens won't do anything. Not unless that object you are using is coated in a thermic gel. That is not the case of this Smartphone. It even has its own pen for better writing. This phone's name speaks for itself. It really is that good if you are planning to use it for writing tasks.
Unfortunately, we don't yet have any info as to when the Smartphone will be coming out to play since it only just got announced this month. But by the end of 2011 it is expected to be found on store shelves.
Processor : 1.5 GHz dual-core processor
RAM : 1 GB RAM
Android OS : 2.3 Gingerbread
Camera : 8 mp
Display : 540 x 960 pixels, 4.5 inches (~245 ppi pixel density)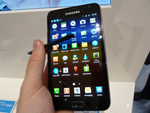 Now this smartphone is pretty massive. It is almost the size of a Pad but not that bulky. It kind of resembles a small notebook you are carrying with you. Now usually an old saying says that size doesn't matter. This Smartphone is the big gun everyone wishes they owned. Its weight doesn't actually go over 178 g and its size is as follows : 146.9 x 83 x 9.7 mm.
The display is a pretty good one, being a capacitive Super AMOLED touchscreen with 16 million colors. The screen itself is about 5.3 inches wide. That in itself implies that its pixel density is approximately 285 ppi. The screen resolution is a pretty huge one, easily reaching 800 x 1280 pixels.
It will have a humongous space allocated for memory. Both for ROM and for RAM. It will have 16 to 32 gb of internal memory and have 1 gb or RAM as well. It also has a card slot that supports any microSD card of up to 32 gb.
Its camera will be a really good one too. It will have an 8 mp camera that can use a resolution of 3264 x 2448 and it is capable of autofocus and has an LED flash as well. Some of the many features of the camera are also : geo-tagging, touch focus, face and smile detection, image stabilization. It also features a secondary front camera of 2 mp. It is easily capable of filming at 1080p with no less than 30 fps.
The processor is a hell of a powerful one, being a Dual-core 1.4GHz ARM Cortex-A9 processor. If that wasn't enough, it is coupled with a great video card as well. I am referring to the Mali-400MP GPU. Still not impressed? No problem … there's more: all of the above are in the same pot as an Exynos chipset. That configuration packs a really strong punch and can be lethal in the wrong hands.
The only downfall of this Smartphone is its OS. This OS isn't one of the newer Android versions such as 2.3.4 or 2.3.5 and is only a 2.3 Gingerbread. That won't really be a problem since it is quite a strong OS in itself.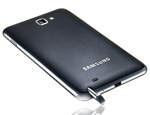 All and all this Smartphone is going to be a really great one and it will probably be worth its buck. It will be even stronger, better and faster than the Galaxy S2 which is the strongest Smartphone out there up to date.
You can get this phone from BestBuy.