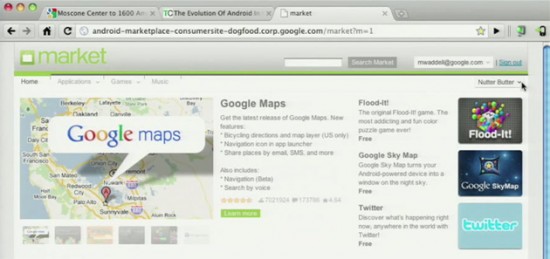 The rumored Google Music cloud service and the promised web based Android Market will be announced tomorrow at the Honeycomb event, according to yet another rumor. It's been almost a year since the web based Market was promised at Google I/O last year, but at least it's finally coming, and from what I've heard about the Google Music service, it could truly disrupt Apple's iTunes music service.
Google Music was rumored to cost only $25 per year. For this you would get to listen to all your music from the cloud. The service would identify all your music, and then make available that music for you. Since they were trying to make deals with the labels, I assume they will also offer their own music for a subscription, but it's not sure if you will get that service along with unlimited music for only $25 per year. If Google could pull that off, it would certainly be a great move from them.
Hopefully, the Android Market will bring some great changes and improve the user experience and discoverability of apps. The web based Market will be welcome, and it should've been there from the beginning, but Google really needs to make it easy for developers to show their apps in the market, and also to allow paid apps in more countries.
The Honeycomb event should prove to be a great conference tomorrow, and looking forward to see it live at youtube.com/android .