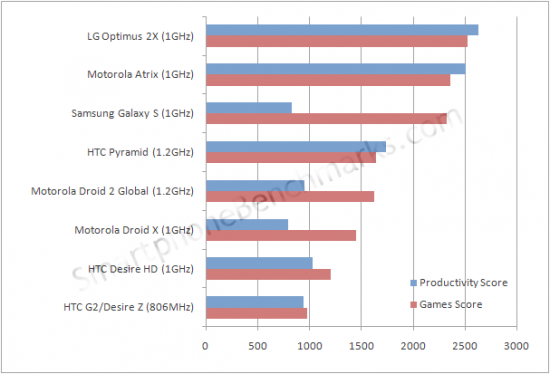 I've mentioned before that HTC will soon fall behind if they don't use other chips besides Qualcomm's, because Qualcomm itself is falling behind Nvidia and others, and they've always been behind in graphics performance with Adreno GPU. Some benchmarks tests made with Smartbench 2011, which I believe is the best and most accurate overall benchmarking tool in the market right now (it's the first to support dual cores, too), show how HTC Shooter (Pyramid) is significantly falling behind phones with Tegra 2 and OMAP 4.
This test must've been taken with a prototype, but I don't think this will heavily influence the outcome until the product is ready. While I'm a little surprised by the fact that even CPU is significantly slower than Tegra 2's CPU, I'm not surprised at all that Adreno 220 is still way behind other competing GPU's in the market.
Snapdragon's cores are mostly similar to a Cortex A8 rather than A9, and Cortex A9 chips are 25% faster than Cortex A8, which means Qualcomm would need to raise the frequency of their Snapdragon cores by 20-25%, which they did. But according to this benchmark that's still not enough.
Motorola and Samsung are both using 2 sets of chips, either from TI and Nvidia or making it themselves and from Nvidia, but HTC seem to refuse to use anything else besides Qualcomm. I think their tight relationship with Qualcomm is keeping them from offering the best smartphones they could offer to their customers, and they should seriously consider offering Tegra 3 tablets and smartphones soon (too late to choose Tegra 2 now for new products).
Tegra 3 will come soon after the dual core Snapdragon will be out, and if it can't even hold a candle to Tegra 2, then Tegra 3 will completely leave it behind with 2x the CPU performance and 3x the GPU performance of Tegra 2. HTC needs to decide now before they lose their credibility as the company that makes the best Android smartphones.