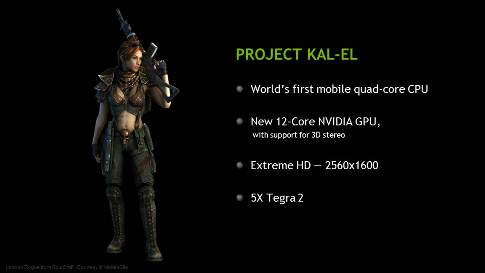 Nvidia promised us the first dual core Tegra 2 last year at CES, and they kept their promise, shipping for the first time in September in a Toshiba smartbook, and later in some noname tablets. Because of this, it mostly went unnoticed, and only now that some big companies like Motorola, Samsung and LG are launching tablets and smartphones with it, the world notices Tegra 2 is finally here. But now they are making yet another bold claim – that in August this year we'll see for the first time a quad core Tegra 3 chip in a tablet.
If Nvidia delivers, and I believe they will, this means they will absolutely kill their competition. They won't kill them in a sense, that nobody else will sell chips, but in a sense that they will lose a lot of mindshare and brand influence once Tegra 3 is on the market. Tegra 3 is a 1.5 Ghz quad core Cortex A9 chip that is about 2x more powerful than Tegra 2 CPU wise, and 3x more powerful GPU wise. They call it Khal-El, as in Superman, because this is a super chip. Tegra 3 will also appear in phones by Christmas. Hopefully, this means it will appear in Nexus 3.
By that time the only competitor with a quad core chip I believe will be Freescale, and it's probably going into PSP 2. TI OMAP 4 and Qualcomm's Snapdragon will both only be 1.5 Ghz dual core chips then, so about half as powerful as the Tegra 3. Nvidia is one generation ahead of most its competitors and I don't expect them to lose this lead any time soon.
Intel should watch out, because it seems it's already more powerful than a Core 2 Duo 2 Ghz chip, and it's catching up fast with other newer and more powerful chips from Intel like the Core i series.
Watch this game demo with Tegra 3: