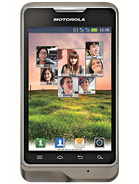 Today we'll be reviewing the Motorola XT390. This is a fairly standard phone with a relatively weak configuration. What is known about this phone is that it should be released for China Unicom. However, for some reasons that are beyond me, it is already available in some countries such as Brazil. What you will find in this review, according to the sources from which I get my information from, are the preliminary official specifications. What that means is that certain things may be changed until the phone is to come out. Since the phone is officially available in some places, we can only assume that the information here is correct and it will not be changed much more. Without wasting any more time with trivial intros, let us begin this little review.
SUMMARY
I've decided to place a small summary of the phone at the beginning of each review. The Motorola XT390 is a fairly standard phone, as I previously mentioned. It will not run with ALL the apps and games since it lacks a few notable hardware components, either that or they are too weak to mention, but it will still run most of the available apps. This is a phone which is meant to be used a phone, not as a portable gaming console or such. It will run all useful apps, but only that. Also, to make it even better for business purposes, the Motorola XT390 is a Dual-SIM phone. It has an interesting aspect and it looks quite unique. As far as the front goes, for example, you can easily spot where the microphone is situated. All and all, the phone looks great and functions in acceptable margins. The Motorola XT390 isn't that expensive either, the phone being valued at a rough 460 euros. If you truly want to know more, do keep on reading as I will go into more advanced terms on each part.
GENERAL
We'll begin by taking a look at the more general aspects of the Motorola XT390, aspects such as the supported networks and the announcement and release dates. The Motorola XT390 is a Dual-SIM phone, as I previously mentioned. The supported networks of this phone are : 2G ones ( GSM 850, GSM 900, GSM 1800 and GSM 1900 on both SIM 1 and SIM 2 ) and 3G ones ( HSDPA 2100 ). As you can see from those networks, the Motorola XT390 is pretty standard as far as networks go. The Motorola XT390 was announced in in April 2012 and is set to hit the market world-wide somewhere around Q3 of 2012. That's all that there is to be said for this part, so let us continue to the BODY.
BODY
Next up we'll be taking a brief look at the aspect of the device and we'll see some info about the size and weight of the device and also see whether or not said phone has any particularities that might set it apart from the rest of the Android phones. The Motorola XT390 is around 116 x 63 x 11 mm big, which make it not that big, to be honest. The size of the Motorola XT390 is fairly normal, and that means that it won't occupy too much pocket space. Its weight isn't that big either, the Motorola XT390 weighing somewhere around 110 grams. The only feature of the Motorola XT390 that might set it apart from other Android Phones, or not so much so nowadays, is that it has Touch-Sensitive Controls instead of buttons. I tend to favor buttons instead of Touch-Sensitive Controls. Android Phones, especially those with a weaker hardware config such as this one, tend to lag and freeze if you try and force them to run certain demanding apps. In that case, the OS tends to get buggy and makes the phone run quite sluggishly. In those certain situations, I find it more comfortable to have a big button to help me kill all processes, rather than relying on a portion of the screen which serves as a button. That's all I can say for this part, so let's move on now to the DISPLAY.
DISPLAY
Next up we'll be taking a brief look at the display of the device and will see the things such as : screen type, screen size, screen resolution and pixel density, screen protection and whether or not the Motorola XT390 has any particularities related to its screen that might make it seem different from the rest. The screen type of the Motorola XT390 is TFT capacitive touchscreen with approximately 256 thousand colors. First of all, 256 thousand is poor compared to 16 million and the difference is extremely notice-able. Secondly, a TFT screen is quite weak having some really blurry and dark colors which make it stressful for the eye. There is an enormous difference between TFT and AMOLED or other clearer screens. To top it all off, the screen is around 3.5 inches. Not only does it make it extremely tiny, but you will stress your eyes to a maximum with extended usage of this phone. The resolution is inadequate as well, it being of around 240 x 320 pixels. The pixel density is no better either, the phone having a pixel density of around 114 ppi. Needless to say, I wouldn't recommend the use of this phone for people with damaged eyesight as they can damage it even further, same goes for people with intact eyesight.The screen of the Motorola XT390 also has Multitouch, however, that is the standard type of Multitouch which doesn't support more than two simultaneous fingers on it. That being said, let's move on to the next part – SOUND.
SOUND
Next we'll try and see whether or not said device has any sound enhancement on it whatsoever, be it software-based or otherwise, as most people already know the basics about Android Phones. If you don't know, however, just browse this website and read some of the older articles. They aren't so complex, however, they should prove a bit illuminating. The Motorola XT390 has no sound enhancement whatsoever on it, unfortunately. That being said, I guess you could say this phone is pretty standard cut as far as sound is concerned. Out of nothing else to say here, let's move on to the next part – MEMORY.
MEMORY
Time to take a brief look at the memory of the Motorola XT390, more exactly : the RAM memory and the internal storage space, as well as ways of expanding said storage space. The Motorola XT390 is only known to have 512 MB of RAM, which isn't a whole bunch, however, for its weak hardware it is more than sufficient. What is somewhat questionable is the fact that the Motorola XT390 doesn't have any internal storage space, either that or it isn't mentioned.What we know for sure, however, is that it has a Micro SD card slot which supports any card of up to 32 GB. While this may be standard knowledge that every phone supports up to 32 GB of Micro SD space, it is a common misconception. Truth be told others are limited to 16 GB and others push the line to up to 64 GB. How one gets a 64 GB Micro SD card is beyond me – custom made perhaps ? Irrelevant, however. Since there's nothing left to say here, let us move on now to the CONNECTIVITY of the device.
DATA CONNECTION
Next up we'll be taking a look at the connectivity of the device, more precisely : the GPRS and EDGE, Speed and WLAN and Bluetooth, USB and other ( if any ) connections. The Motorola XT390 has both GPRS and EDGE, both of them at Class 12. The GPRS has 4+1, 3+2, 2+3 and 1+4 slots and can reach a speed of around 32 ~ 48 KB/s. The EDGE is a Class 12 and it is unknown what speed it can reach. The Speed of this device can be measured in both HSDPA and HSUPA. My sources, however, fail to provide me with precise info on how fast each of them can go. It is known that the current maximum Speed for the HSUPA is 5.76 MB/s, however, I sincerely doubt that the Motorola XT390 can reach that speed. The WLAN of this phone is a Wi-Fi 802.11 b/g/n with Wi-Fi hotspot. This phone also has Bluetooth v2.1 with A2DP and EDR. This phone also has a USB port – a Micro USB v2.0 one to be more precise. That being said, let's proceed now to the next part – CAMERA.
CAMERA
Next up we'll be taking a look through the camera of the Motorola XT390, mainly we'll see how strong the main and secondary cameras are ( if any ) and analyze their features and capabilities. The only camera this phone has is a main one, and that one is pretty weak – a 3.15 MP one. This camera can only photograph at resolutions of up to 2048 x 1536 pixels. The only feature of this camera is the fact that it has Geo-tagging, but it has no autofocus and any stuff like that, which is sort of disappointing. Personally, I don't really care much since I don't use the phone for a camera, but there are plenty of people around that actually do such a thing. Apparently, this camera can also record video, however, there's no news about the quality. As I mentioned, there's no secondary frontal camera for this phone, so let us move on now to the next part – BATTERY.
BATTERY LIFE
Next we'll be taking a look at the battery where we normally try to see the battery type of the device and how long said battery can function. Unfortunately, this battery is quite mysterious as we only know that it is a Standard Li-Ion one. No info about its voltage or how long it can function. Since there's nothing left to discuss here, let's go to the next part – HARDWARE.
HARDWARE
Next up we'll take a look at the hardware, more precisely, the three main hardware components of the device : processor, motherboard and graphics card. Unfortunately, as I've already said somewhere at the beginning, this phone only has one of the three – a Single-Core 800 MHz processor. So, as you can obviously tell for yourself, the Motorola XT390 is a pretty weak phone as far as hardware is considered. Since there's nothing left to discuss here, let's move on to the SOFTWARE.
SOFTWARE
Here you can find out a bit about the OS version of the device and see whether or not it can handle, or even deserves, an update to a better version. The Android OS of the Motorola XT390 is Android OS v2.3 Gingerbread. Most disappointingly yet, it cannot be upgraded to v4.0 Ice Cream Sandwich and there is no news of any upcoming firmware update. Since I've nothing left to say here, let's move on to the final part of the review – FEATURES.
FEATURES
Last but not least, we'll take a look at the more random features and capabilities of the Motorola XT390 such as : sensors, messaging, browser, radio, GPS, Java and colors. The sensors of this phone are as following : Accelerometer, Proximity and Compass. The messaging on the Motorola XT390 is done via : SMS ( with Threaded view ), MMS, E-Mail, Push Mail and IM. The browser of this phone uses WAP 2.0 or xHTML and HTML but has no built-in support for Adobe Flash, fact which could prove problematic. It is unknown as of yet whether or not the Motorola XT390 has a radio or not, but even if it doesn't have one, you can find an article around here that teaches you what to do in that situation. The GPS of this phone is a standard one with built-in A-GPS support. The Motorola XT390 also has Java through Java MIDP emulation. This phone is available in the following colors : Black and Brown.
Here is a brief list of what the Motorola XT390 can do :
Dual SIM (dual stand-by)
SNS integration
MP3/WAV/AAC+ player
MP4/H.263/H.264/WMV player
Google Search, Maps, Gmail, YouTube, Google Talk
Document viewer
Photo viewer
Organizer
Voice memo/dial
Predictive text input
This concludes our little review of the Motorola XT390. If you feel that anything is lacking from this review feel free to leave your suggestions in the comment section below for things which should be added and I will be sure to take them into consideration when writing my future projects. In the meantime, I sincerely hope you had as much fun reading my little review as I had writing it.