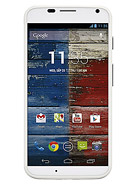 It's been quite a while since we've posted a review on an Android phone, so in order to get back in the saddle at full throttle, why not just go ahead and start with the Motorola Moto X. While it may be somewhat strange to pronounce from the only reason that it sends you to some bike races or others, the Moto X is still one of the stronger Android phones out there. It has a long way to go in order to compete with the top dogs in the big leagues, but it's well above average and within a relatively acceptable price-range. Much has been said about this phone and so much more has been rumored about it. Today, we're hoping to put an end to those rumors by telling you, the reader, exactly what you need to hear about it.
So, without further ado, let's get this show on the road, shall we?
OVERVIEW
Now from an objective point of view, if you are to rate it with the same system as the top-ranking phones, the Motorola Moto X won't really stand out with much. However, this phone isn't exactly tailored to fit the whims and tastes of all the average Android consumers. Subjectively speaking, I for one am one of those people that dislikes custom user-interfaces. I like my Android to be as vanilla as possible without too many custom UIs and stuff like that. Also, in my mind I have a thought that I prefer the Android phones made by Google more than those of other firms. The fact that Motorola belongs to Google and that they have put a lot of thought into the Moto X is a huge plus for me, personally. However, that may not be the case of all users. Still, it helps with the software performance as most users will undoubtedly feel the difference between a device made by Google and one that wasn't.
GENERAL
While this phone may not be officially available, it will undoubtedly be by the end of August 2013. It was announced in the same month and it is said to be able to handle both regular GSM networks and your more non-standard CDMA ones. As for the networking per say, we have something like this: 2G networks ( with GSM 850, GSM 900, GSM 1800 and GSM 1900 for the GSM ones and CDMA 800 and CDMA 1900 for the others ), 3G networks ( HSDPA for the regular version and CDMA 2000 1xEV-DO for the other ) and 4G ( which is your standard LTE ). As for the SIM card of this magnificent little device, I regret to inform you that it uses nano-SIM cards ( for some it is good news, for others, not so much ).
BODY
As for the design of the phone, I have to say it is truly spectacular. While it may not have all sorts of bells and whistles, it is simple and practical. The size may be an inconvenient for those who are bothered by relatively large phones, but for those of us with larger hands it is just right. To be more precise, the phone is 129.3 x 65.3 x 10.4 mm large ( and for you Americans out there – 5.09 x 2.57 x 0.41 in ) and it weighs around 130 g ( or about 4.59 oz ).
DISPLAY
The screen of this device is an AMOLED capacitive touchscreen with 16 million colors. This said screen is 4.7 inches big and supports a resolution of 720 x 1280 pixels. The screen has a pixel density of approximately 312 pixels per inch. If you want to compare it to higher budget smartphones and are thinking to yourself "Gee, is 300 good compared to that 400 that the others have?", I'm here to tell you not to worry. You see, this predicament is similar to the frames per second you get in videogames. You might think 100 is better than 65 or so, but your human eye cannot see the difference either way. It's just like that with the ppi in phones: anything above 300 cannot be distinguished. As for screen protection, this phone does come with some Corning Gorilla Glass to boot, but if you're extra careful with the device you won't even need it.
SOUND
As far as the sound part goes, the phone is pretty stock. It has the standard vibration, MP3 and WAV rigntones, a standard loudspeaker and a 3.5 mm jack. What else would need, anyway.
MEMORY
Memory-wise, the Motorola Moto X is somewhat restrictive. Sure, you can choose between two versions: one with 16 GB storage and one with 32 GB and both come with 2 GB of RAM. However, no version of this phone supports a memory card, that means you need to learn to manage your data real well.
DATA CONNECTION
The Motorola Moto X has both GPRS and EDGE. The speeds that this phone can reach varry on the version you get, but here they are nonetheless: HSDPA of 42.2 MB/s, HSUPA of 5.76 MB/s, LTE Cat 3 of 50 MB/s Up and 100 MB/s Down or EV-DO Rev. A of up to 3.1 MB/s. The WLAN is somewhat unique: Wi-Fi 802.11 a/b/g/n/ac with Dual-Band, DLNA and capable of creating Wi-Fi Hotspots. The phone has Bluetooth v4.0 with A2DP, LE and EDR. It also is NFC capable ( if you don't know what it is, look it up or search some older reviews in which I might have posted data about it ) and its USB port is a Micro-USB v2.0 one.
CAMERA
The camera of the Motorola Moto X is somewhat better than others. The phone comes with a 10 MP camera that has both LED flash an autofocus and can record in 1080p full HD at 30 frames per second.What is interesting to note are the features of said camera: a 1.4 µm pixel size, geo-tagging, touch focus, face detection, panorama and HDR. The phone also has a secondary frontal camera of 2 MP which can also record in full HD 1080p.
HARDWARE
Hardware-wise, while this phone may not be the best of the best, it is still much better than the rest. It comes with an Qualcomm MSM8960Pro Snapdragon chipset with a Dual-Core 1.7 GHz Krait processor and an Adreno 320 graphics card. All and all this is a configuration good enough to withstand any and all tasks you might have for it and even a large majority of the Android games out there.
SOFTWARE
The Motorola Moto X has one of the latest version of Android on it: Android OS v4.2.2 Jelly Bean. While there may be others out there who were expecting more, I think it's important to keep in mind that this is a pure version of Android, unaltered by any unnecessary UIs that you may not want.
BATTERY
The Motorola Moto X comes with a Li-Ion 2200 mAh battery on it which is more than capable enough to keep the phone on for around: 576 hours of stand-by or 13 hours of talk-time.  Of course, if you run all sorts of unnecessary apps on the phone at the same time and multiple processes, you will have to recharge it daily, but that's sort of an unspoken thing.
FEATURES:
As far as sensors go, this phone has: Accelerometer, Gyroscope, Proximity, Compass, Barometer and Temperature. The messaging on the Motorola Moto X is done via SMS ( with threaded view ), MMS, E-Mail, Push Mail and IM. The browser of this phone uses HTML5 and has no built-in support for Adobe Flash. The GPS has A-GPS support and GLONASS. The phone, same as all the others, has Java through a Java MIDP emulator. As far as the colors go, the device comes in Black and White front panels with 18 color options for the back panel ( two of which have that neat-o carbon fiber feel to them ).
Here's a brief list of the things that the Motorola Moto X is capable of:
Google Drive (50 GB storage)
SNS integration
MP3/AAC+/WAV/WMA player
MP4/H.263/H.264/WMV player
Google Search, Maps, Gmail
YouTube, Google Talk, Picasa
Organizer
Photo viewer/editor
Document viewer
Voice memo/dial
Predictive text input
This has been our little "review" of the Motorola Moto X. Hope it helped straighten a few things out for you and it answered a few questions you might have had. Until next time, I hope you've had as much fun reading this review as I had writing it.