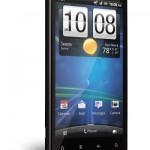 HTC hasn't failed to impress with all of their work. To be honest, the first time I was introduced to HTC was when the iPhone 4 came out, and the HTC Evo 4G kicked its hide back from whence it came. Afterwards, I started to see a few of their products in stores, on occasion.
I actually regret the fact that they aren't so well known here, since they kind of make really great products.
Processor : 1.2 GHz dual-core processor
RAM : Insufficient Data
Android OS : 2.3.5 Gingerbread
Camera : 8 MP
Display : 540 x 960 pixels, 4.5 inches (~245 ppi pixel density)
This phone is relatively quite new, so not too much information exists about it. All we know about the screen is that it is a capacitive touchscreen with 16 million colors. The screen sizes and resolutions are certain though. The screen is 4.5 inches big and the resolution is around 540 x 960 pixels. That means that the screen's pixel density is around 245 ppi.
On the memory side, we know it has an internal storage space of 16 GB. The microSD card can use any microSD card of up to 32 GB in case you need more space. There isn't enough information about the RAM to say anything about it. But judging from the power of this phone, I'd say somewhere between 512 and 1 GB … But that is just an assumption.
On the camera note, this phone has one of the best cameras out there. We're talking about an 8 MP camera that photographs at resolutions as high as 3264 x 2448 pixels. Some of the many features of the camera include : autofocus, Dual-LED flash, geo-tagging and face detection. The video recorder is also awesome. It can record video at 1080p at a steady 60fps. This phone also has a secondary camera, that being a 1.3 MP one.
On the hardware side, this phone is sure to have a 1.2 GHz dual-core processor, but not enough data to say what processor it is, or anything else. Therefore, we shall leave it at that.
On the software side, this phone comes equipped with Android OS v2.3.5 Gingerbread. That is the final version of Gingerbread out there, so I have no more to say. Aka, it's good … REALLY good.
All and all, a pretty good phone, considering so little information exists about it.
You can get this phone from Amazon.