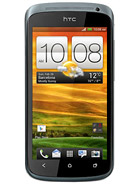 Today we'll be reviewing the HTC One S. This is another phone from the HTC One series. While the HTC One series has made itself popular through the HTC One X ( since it was the most powerful ), know that the other phones in the One series are also quite powerful. Take this one for instance. This phone may not be as strong as the HTC One X and it may not have any Tegras on it or whatever, but it's sufficient for any business purposes and it can run pretty much anything. While certain games which are more video demanding may be out of the question, this is still a really good phone.
The HTC One S may have its drawbacks, but it isn't a very bad buy for 450 euros. While that may be the going price, know that you may not have such luck with purchasing it as most shops tend to add quite a bit to that price. However, that's the cheapest I've seen this phone sold at. The maximum price I've seen so far is double : you'll know it when you see it.
While this phone may not be the apex of human technology as far as phones go, know that the HTC One S has so many features on it that it almost makes up for it. I use "almost" lightly, as there may be individuals around that don't care that the phone is a very complex piece of work if it doesn't have any powerful hardware.
SUMMARY
As I said a long time ago, in a galaxy far, far away, but most probably this one, I would start off my reviews with a quick revision of the good and the bad of the device. However, know that this part offers no useful information whatsoever. It is only intended as a general guide-line that provides quite little info. This part is meant to stir the interest of the reader so that he / she will keep on reading.
The HTC One S is a really good phone. Not quite on the same level as the HTC One X, which is currently crowning over all mobile device, it and the Galaxy S3, although I can't say which one is better, this phone still manages to have most of the features of the One X. While it may not be as strong as a Tegra 3 device, it is still more powerful than most Android phones available.
This phone seems to have no weak points. Apart from the fact that I can't provide a lot of info for some parts, there's nothing that needs changing about the HTC One S. The camera is great, the hardware is good, the screen is awesome and all the rest about this phone is just splendid. It should please quite a few people. Also, this is one of the few phones that is known to support Android OS v4.1 Jelly Bean. Purchase this device and you can be sure that it will receive an update as soon as the next version is out.
Its value isn't all that much either since it costs around 450 euros. Well, that's the going price, anyway. Most providers will add to that price quite a bit when they sell the device to make more profit. However, now you have an idea of what price to keep in mind as reference point. Try and find something as close to 500 dollars as possible else you're probably getting a bit ripped off.
GENERAL
The HTC One S uses both 2G and 3G networks and those networks are as following : 2G ( GSM 850, GSM 900, GSM 1800 and GSM 1900 ) and 3G ( HSDPA 850, HSDPA 900 and HSDPA 2100 ). As you can see, this phone is pretty standard as far as the supported networks go. Still, that's better than most as some phones don't even support those networks. This phone was announced in February 2012 and it is currently available as it was released soon after in April 2012.
BODY
The size of the HTC One S is pretty optimal. This phone isn't too big, but then again it isn't too small either. HTC actually nailed it with the One S : this phone is around 130.9 x 65 x 7.8 mm big and it weighs somewhere around 119.5 grams. As you can already tell for yourself, the size is just the optimal one making the phone be quite easy to place into any pocket and maneuver around quite easily. The only particularity of the One S is that it has Touch-Sensitive Controls instead of frontal buttons. While this may not be of much interest since most phones have them, it's still worth mentioning. Any bit of news, be it good or bad, is still news, after all.
DISPLAY
The HTC One S has one of the finest screens available on the world-wide market – a Super AMOLED capacitive touchscreen with 16 million colors. While the Super AMOLED and AMOLED in general were designed to cancel out reflections in even the most "illuminated" conditions, I would still advise against using it in direct sunlight. While the screen is pretty damn powerful at that and has the most vivid colors available, no amount of tech can block ALL the reflections.
The screen of the HTC One S is around 4.3 inches. This optimally sized screen can house a resolution of approximately 540 x 960 pixels. The pixel density of the One S's screen is also a really great one -around 256 ppi. While some experts may claim that the optimal amount is around 300 ppi ( since that's the maximum amount perceived by the human eye ), I beg to differ and say that it takes a really well-trained eye to see the difference between 300 and 250. Sure, the difference may be noticeable for large tablets, but it's no difference at all for a 4.3 inch screen.
The HTC One S also has Multitouch on it, however, it's not the advanced sorts which can support more than two simultaneous fingers on it ( personally, I never really understood the need for so many fingers on the screen, but someone may have seen reason in it, else it would not exist ). The means of screen protection of the One S are quite good as well – Corning Gorilla Glass. This phone also has the HTC Sense UI on it, should you choose to use it ( I believe it's already on when you purchase the phone – I think that's the default way UIs work ).
SOUND
Apart from a few details that you'll notice a bit later, the audio output capabilities of the HTC One S seem pretty basic. The phone has the standard Alert Types, standard Loudspeaker and standard 3.5 mm jack. Then why even mention this part at all if it doesn't have any notable sound enhancement whatsoever, not hardware and not software ? Well, it does seem to have one since the phone can support the Beats audio thingy and not many phones can brag about doing that.
I, for one, don't quite care much for that Beats audio. Few people can actually tell the difference between Beats and other sound systems and even fewer realize that Beats is highly overpriced for its quality. It is like comparing Apple to, I don't know, Samsung or HTC or other high-ranking Android providers. People buy Apple since they think it's better just because it's more expensive. However, just because someone asks more money for something doesn't mean that the certain something is better. It just means that the seller is a bad marketer. But I could go on talking about this for hours, about Beats versus others or Mac versus PC or Apple versus Android, but I don't have that kind of time.
MEMORY
The memory of this phone may come as a bit of a disappointment to those freaks that need more than 64 GB space on their devices. While other phones are available in different versions such as a 16 GB one or a 32 GB one or such, the HTC One S is only available in a 16 GB version. To twist the knife in the wound, the phone doesn't even have a Micro SD card, so it is what it is. Still, the phone remains quite a powerful one with more than enough space. Hell, the RAM is around 1 GB and when this phone came out that was saying something since 2 GB were still out of the question back then.
DATA CONNECTION
The HTC One S has both GPRS and EDGE, however, I can't provide any info about what Class they are or how fast they can go as I have no info available about those two aspects. Same thing goes for the Speed as well since I can only say that it is both HSDPA and HSUPA, but other than that I haven no information. The WLAN of this phone is Wi-Fi 802.11 b/g/n with DLNA and Wi-FI hotspot. This phone also has Bluetooth v4.0 on it and the Bluetooth also has A2DP. The USB port of this device is a Micro USB ( MHL ) v2.0 port.
CAMERA
The camera of this device is a really fabulous one. The main camera is an 8 MP one which can photograph at resolutions of 3264 x 2448 pixels and record in 1080p full HD at around 30 frames per second.  This camera also has a ton of features to its name : autofocus, LED flash, simultaneous HD video and image recording, geo-tagging and face and smile detection. The video recorder also has a few features of its own : stereo sound recording and video stabilization. It may not be much to mention, but most cameras lack even those. The HTC One S also has a secondary VGA frontal camera.
BATTERY LIFE
The battery of this phone, as I already mentioned, is a part for which I can't provide too much information about. The only thing we know about the battery is that it is a Standard Li-Po 1650 mAh one. Unfortunately, I can't say anything about how long this battery can sustain the phone life in both stand-by and talk-time. I am deeply sorry that I cannot provide more information for this part, but as it stands you'll just have to purchase the phone for yourself and see.
HARDWARE
The hardware configuration of the HTC One S is pretty good. Sure, it may be far from the One X, or any Tegra 3 device come to think of it, but the HTC One S is still a really good phone whose hardware can still tower most of the phones out there. The processor is a Dual-Core 1.5 GHz Krait and since that's never enough it is accompanied by a Qualcomm MSM260A Snapdragon chipset and an Adreno 225 GPU. As you can pretty much see for yourself, the hardware of the One S is pretty darn powerful and the phone itself should be able to run any app, game or whatever out there.
SOFTWARE
The software of this device, as I already mentioned, is one of its most powerful points. Not only does it have the latest current version of the Android OS – v4.0 Ice Cream Sandwich, but it will also be upgradable to v4.1 Jelly Bean when it actually does come out. With this phone, and a few rare others, you have the certainty that you're buying something which will last, in both hardware aspects and software.
FEATURES
The HTC One S has a ton of features on it. The sensors of this device are : Accelerometer, Gyroscope, Proximity and Compass. The messaging on this phone can be done via : SMS ( with Threaded View ), MMS, E-Mail and Push Mail. The browser of this phone uses HTML and has built-in support for Adobe Flash. This device also has a Stereo FM radio with RDS. Its GPS has built-in support for A-GPS as well. Also, the One S has Java as well through Java MIDP emulation. The only available color for this device is Black, but it does look wonderful in that color.
Here is a brief list of what the HTC One S can do :
MicroSIM card support only
Beats Audio
Active noise cancellation with dedicated mic
TV-out (via MHL A/V link)
SNS integration
MP4/H.263/H.264/WMV player
MP3/eAAC+/WMA/WAV player
Google Search, Maps, Gmail, YouTube, Calendar, Google Talk
Document viewer
Voice memo/dial
Predictive text input
This concludes our little review of the HTC One S. If you feel that anything is lacking from this review feel free to leave your suggestions in the comment section below for things which should be added and I will be sure to take them into consideration when writing my future projects. In the meantime, I sincerely hope you had as much fun reading my little review as I had writing it.