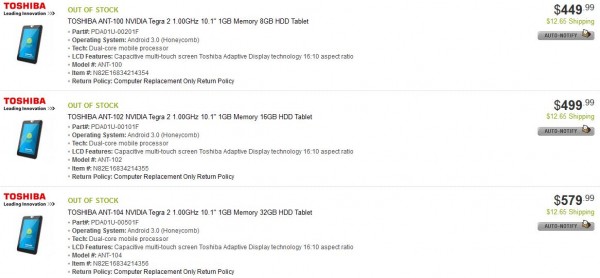 It looks like Android tablets are starting to finally arrive at a price that is less than iPad but still has most of the important specs from the Android tablets that were even more expensive than an iPad.
Toshiba will offer 3 models, all with Tegra 2 chips and 1 GB of RAM, with the only difference being in internal storage amounts. The $450 tablet will have 8 GB flash memory, the $499 one will have 16 GB just like iPad 2, and the $579 one will have 32GB of flash memory.
I've wanting these kind of options for a while now. The reason is that most people can live with only 8 GB of internal storage, especially when they have an Micro-SD slot that they can fill with another 32GB of storage.
Still, I think Toshiba could've gone down to $400 for a tablet like this, but since this is their first foray in tablets, they might need a bit of experience to make their manufacturing very efficient and cut better deals with makers of tablet components. By the end of the year, I hope we'll see not just Tegra 2 tablets for under $300, but Tegra 3 tablets for $400 as well.