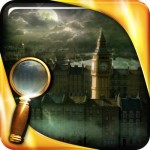 Today we'll be taking a look at another really awesome Android game. This is a classic sort of game, a game in which you're supposed to just examine pictures or certain locations and figure out clues and links between events. In other words, you step into the shoes of a detective. And what better detective to become than one in the time of Sherlock Holmes.
As you may have guessed in the title, this game is about Doctor Jekyll and Mister Hyde. Now you may wonder, who are those two people and why should I care about them? Well, they two are characters from the book with the same name. It's probably one of the more famous pieces of British Literature that was referenced countless times in both movies, games or even other books.
What was it about, you may ask? A simple case of multiple personalty disorder, or as you may also call it, multiple personality schizophrenia. What our good Doctor Jekyll was doing was trying to develop some revolutionary potion / concoction that would push humans beyond their limits ( you are aware that a human can only use up to 10% of his brain capacity in exceptional cases and up to 20% of his muscular capacity in the same exceptional cases ). Well, the good doctor managed indeed to create it, but this is where we see why it is immoral and why it goes against the human laws of common sense or decency to experiment on humans. While Jekyll did indeed develop Something, he couldn't test it on anyone so he tried it on himself, thus bettering all of his abilities, but since nothing good comes without a price, it did have a few serious drawbacks.
What happened was that his mind shattered into two halves. We had Doctor Jekyll, the respected physicist by day, and Mister Hyde, a psychopathic super-powered murderer by night. While rare are the cases in which the two personalities are aware of the existence of one another, the case of Doctor Jekyll was somewhat different, as both personalities knew about the existence of one another and still lived in harmony. Mister Hyde only "helped" Jekyll with his problems, but in an illegal manner. What people managed to tick off Jekyll by day, Hyde would hunt them down and punish them by night.
Well, let's say you have enough as a general teaser to make you read the book and / or play the game.
Features :
This game is compatible with all HD device versions and has much better graphics on said devices
The inventory of this game is highly interactive
You have to search for a variety of dynamic, animated objects ( such as lists, silhouettes, charades, etc )
You are given access to numerous places to inspect
This game also has plenty of Mini-Games such as Puzzles, Reflex Games and so on
Puzzles too hard? You can get help by : zooming in n certain screens, limited reload-able clues and bonus stars
The game has a luxurious decor consisting of a lot of high-definition images
This game also has a relatively reduced battery consumption ( in the acceptable limit )
Description :
Now you may be wondering, what does this "Extended Edition" offer me that the normal edition didn't? Well, here is a list to see for yourself what it gives : new puzzles, new scenes, new objects, new mini-games, new characters, an improved interface ( one which is brought to life with the collection of certain key objects ), an improved gaming experience and a longer lifespan.
Can you submerge yourself into the end of the 19th century and find out how to stop the monster prowling around in the Victorian fog of London? Can you ring yourself to investigate its crimes such as the trampling of a young girl, the murder of a member of the parliament and the rape of a match seller?
You are Mister Utterson, a friend of Doctor Henry Jekyll. To your dismay you find out that these events happening around London at night are not entire unrelated to the good doctor and the terrible individual currently living with him, Mister Hyde.
After finally discovering the ghastly link between Doctor Jekyll and Mister Hyde, you must ask yourself : can this link be broken? This game can help you find the answer to that question. Just play it and find out.
If you truly want to be good at this game you must make the most of the 2x zoom put at your disposal to delve deeper into the images an use the few clues at your disposal to aid yourself in the location of key objects. Short on clues and / or time? Locate bonus stars hidden in the pictures to earn more of each.
Some of the many locations in this game revolve around Doctor Jekyll's house, his laboratory and mainly the labyrinth city of London. You are to move through all of these locations in order to get to the bottom of this mystery and to try and save Doctor Jekyll from the danger stalking him, both from the world and from himself.
All and all this game is pretty good and pretty complex. It offers you a lot of locations and a lot of puzzles and basically you can't really expect much more from the mere value of 2 dollars.
You can download this really awesome game from Amazon.