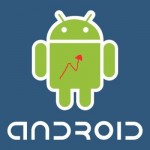 The analysts from Gartner have just posted their report on the smartphone market of Q3 and have also outlined some pretty interesting trends. The market as a whole grew by 5.6% and Android saw its share more than double and its total shipments nearly triple compared to the Q3 of 2010.
The Android OS,invented by Google, powered more than half of all smartphones sold in the third quarter. That's a total of over 60 million units sold, which adds up to over 650 thousands for each day of the quarter. The sequential increase in the market share of the platform is quite impressive as well – 9.1% points.
Symbian took a distant second place with a market share of 16.9%. Its shipments fell both sequentially and year-over-year and it's pretty certain that this is the last quarter when Symbian is the second best-selling platform. Unless a radical change is soon to come, we can't be sure of a survival of this OS.
In third place, iOS suffered a huge setback as Apple missed its regular iPhone refresh pattern and sales of the platform took a rare-to-be-seen sequential fall. Still, the shipments were much higher than in Q3 of 2010 and back then we had a new iPhone in the market. The gap between iOS and Symbian stood at just 1.9% points in Q3, which is less than the iPhone 4S sold in its first day of existence.
RIM keeps struggling in order to match the growth rate of the market as a whole and while it maintained its 4th place and shipment volumes both year-over-year and sequentially, it keeps losing market share. BlackBerry powered just 11% of the smartphones sold over the past three months and with Windows Phone
finally about to mount a serious challenge runs the risk of being relegated to the role of an also-run.
Interestingly though, Windows Phone is still unable to make any kind of serious impact and its sales are decreasing, instead of increasing. With a market share of 1.5% it was even overtaken by Bada, which now sits in fifth place. Otherwise said, Microsoft would probably be better off in changing Symbian, rather than improving the dying Windows Phone.
| | | | | |
| --- | --- | --- | --- | --- |
| Operating System | 3Q11 Units | 3Q11 Market Share (%) | 3Q10 Units | 3Q10 Market Share (%) |
| Android | 60,490.4 | 52.5 | 20,544.0 | 25.3 |
| Symbian | 19,500.1 | 16.9 | 29,480.1 | 36.3 |
| iOS | 17,295.3 | 15.0 | 13,484.4 | 16.6 |
| Research In Motion | 12,701.1 | 11.0 | 12,508.3 | 15.4 |
| Bada | 2,478.5 | 2.2 | 920.6 | 1.1 |
| Microsoft | 1,701.9 | 1.5 | 2,203.9 | 2.7 |
| Others | 1,018.1 | 0.9 | 1,991.3 | 2.5 |
| Total | 115,185.4 | 100.0 | 81,132.6 | 100.0 |
LG comes in a very distant third and it too is on its way to being overtaken by Apple. RIM already knows how that feels as the company lost to both the Apple and ZTE in Q3 2011 and is now sixth.Moving on to the other interesting bit from the Gartner report, the manufacturers' ranking. We see that Nokia has retained its top spot, though the gap to the second-placed Samsung is quickly closing.
And if RIM doesn't improve its performance right away, it risks falling victim to the fast growing HTC and Motorola, too. Even Huawei isn't that far behind.
Sony Ericsson comes last of the major manufacturers with a market share of just 1.9%. The joint-venture, which is on its way to becoming a wholly-owned subsidiary of Sony, shipped less than 8.5 million units in the past three months and unless it picks up its game, it might become another member of the dreaded Others group in some of the next reports.
| | | | | |
| --- | --- | --- | --- | --- |
| Vendor | 3Q11 Units | 3Q11 Market Share (%) | 3Q10 Units | 3Q10 Market Share (%) |
| Nokia | 105,353.5 | 23.9 | 117,461.0 | 28.2 |
| Samsung | 78,612.2 | 17.8 | 71,671.8 | 17.2 |
| LG Electronics | 21,014.6 | 4.8 | 27,478.7 | 6.6 |
| Apple | 17,295.3 | 3.9 | 13,484.4 | 3.2 |
| ZTE | 14,107.8 | 3.2 | 7,817.2 | 1.9 |
| Research In Motion | 12,701.1 | 2.9 | 12,508.3 | 3.0 |
| HTC | 12,099.9 | 2.7 | 6,494.3 | 1.6 |
| Motorola | 11,182.7 | 2.5 | 8,961.4 | 2.1 |
| Huawei Device | 10,668.2 | 2.4 | 5,478.1 | 1.3 |
| Sony Ericsson | 8,475.9 | 1.9 | 10,346.5 | 2.5 |
| Others | 148,990.9 | 33.8 | 135,384.1 | 32.5 |
| Total | 440,502.2 | 100 |    417,085.7 | 100 |