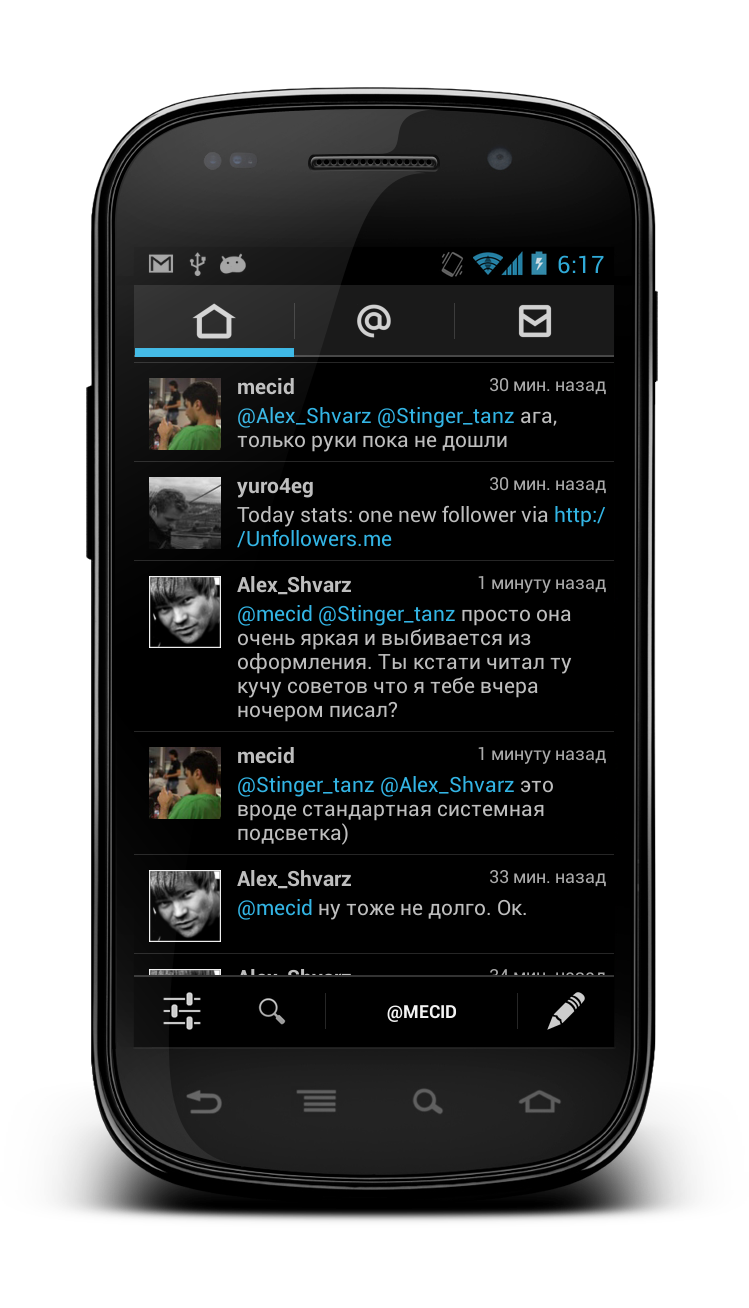 Twitter has been a service that people in online marketing, Social media Optimizations and celebrities using more frequently. Being a Micro blogging site you can type a tweet here in 140 words. After the emergence of Android there have been plenty of twitter clients for the platform. And many of them have gone viral too. Here to day I will present a twitter client based on Holo theme. Robird for Android is refreshingly new twitter client developed by Mecid 8 Senior member of XDA Developers (One of my personal favorites). So let's have a close look to the client.
User Interface:
The app is still in its alpha phase. Yet developers have provided interesting UI. It's more than just simple and clean. It is user friendly too. The navigation is quite easy and you can easily play around with various features and settings menu options. The classic combination of Sky blue and black has been used for UI by developers though you can change the theme to darker one.
Functions:
The app comprises all features that a normal twitter client must have. It has Timeline, Mentions, DMs etc. Hit the menu button and you can access other sections including Drafts, Lists and Settings. All the functions are well organized that you will find them all in top and bottom ribbon. Swipe and gesture are enabled with the app. You can swipe right and left for previous and next pages. You can refresh the timeline with gesture. We have updated with themes options in settings menu. There are other options too. You can have tweak notifications, fonts, location etc. So as you see, there's a little bit of both worlds, so new users wont feel awkward, and the slightly experienced user will have all the functions that they have previously used. Tweet Marker is another great feature which enables user to synchronize the app to other twitter clients.
Pros:
Simple intuitive and to the point User Interface
Easy navigation
Holo Theme
Tweet Marker Option
Stable with Android 4.0 and above
Have all basic functions
Cons:
Link Shortner is not there
No tweetlonger support which enables user to tweet more than 140 words
Not available in all languages
Less customization options
Not made for tweeter addicts
Developers Consolation:
App is still in alpha phase. At present they are working on translating the app in all possible language.
Our View and Prediction:
As we have tested the app neutrally we have to put both, pros and cons forward but you can understand that criticizing an alpha stage app is not a big stuff.
Developers are asking for user's suggestions and from a senior XDA developer member we can not expect anything less than rectifications.
The app's basic and easy functionality will attract a big mass who just want all basic features. App has potential and it will work.
So, obviously it is free you can try it at no cost.